February means Valentine's Day, President's Day and Black History Month!
With so much going on this month in Virginia, we've created separate features for convenience: Virginia Wines & Valentines events, Presidents' Day Events & Attractions or Black History Month Events and Black History Attractions for an exciting February 2006!
Central Virginia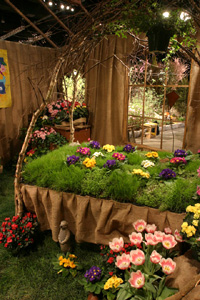 A real flower bed from the 2003 Maymont Flower & Garden Show

Ladysmith - Through Feb. 28 - Play the Virginia Bazaar's Trivia Game and try to win a chance for vendor door prizes and market money. Free admission and parking!
Richmond - Feb. 9-12 - The Maymont Flower & Garden Show features breathtaking landscape exhibits, expert speakers and great garden shopping for everything you need. This year's theme for the landscapes is "Table for Two" suggesting some intimate seating arrangements and romantic blooms.
---
Blue Ridge Highlands
Ararat - Feb. 3, 10, 17 & 24 - The Willis Gap Community Center Open Jam invites musicians all skill levels who like to play bluegrass, bluegrass gospel, country and oldies.
Floyd - Feb. 11 - Floyd Contra Dance - Blue Ridge Country Dancers invite you to swing your partner at this trational American contra dance every second Saturday at the Sun Theater.
Stuart - Feb. 25 - Folks love the Patrick County Music Association Open Jam Session. Bring your guitar, banjo, fiddle or mandolin and pict a while with others, or just come to enjoy the music!
Stuart - Feb. 27 - The Historic Star Theatre is the site to take Line Dance Lessons. What fun!
Heart of Appalachia
Hiltons - Feb. 4, 11, 18 & 25 - Carter Family Fold Weekly Music invites you to listen and dance to traditional mountain music as played in Poor Valley at the foot of the Clinch Mountain. This is the place where June Carter Cash got her start!
Northern Virginia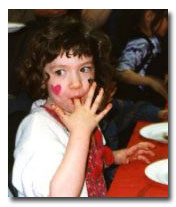 Chocolate Lovers Festival in Fairfax

Leesburg - Feb. 3 - Leesburg's First Friday in the historic district features art galleries, specialty shops, refreshments and entertainment. Free admission. First Friday Jr. is for the children and does require admission.
Fredericksburg - Feb. 4 - The Evening for the Arts Gala is a fundraiser sponsored by the Fredericksburg Festival of the Arts and includes cocktails, food, a silent auction and grand prize. The event takes place at The Atrium at Mill Race Commons.
Fairfax - Feb. 4-5 - The everpopular Chocolate Lovers Festival 2006 in Downtown Fairfax starts off with the chocolate chip pancake breakfast. Try Taste of Chcolate stations and the Chocolate Challenge. This full-day event runs from 8 a.m.-10 p.m.
Fredericksburg - Feb. 15 - Cultural Awareness Series at the University of Mary Washington features Edward P. Jones, who will read from his Pulitzer Prize winning novel, "The Known World."
Purcellville - Feb. 18 - Enjoy an Old-Time Country Dance featuring a live band and figure callers at the Purcellville Skating Rink. No experience necessary, and refreshments are available for purchase.
Fredericksburg - Feb. 15 - You are invited to the Magnolia Ball with the Fredericksburg Big Band. Other activities include dinner and a live and silent auction.

Hampton Roads
Hampton - Feb. 6 - The Hampton History Museum presents Port Hampton Lecture Series featuring various authors, historians and local history buffs discussing topics from Hampton's past and related subjects of a regional and national aspect.
Newport News - Feb. 18-19 - The Reptile Weekend at the Virginia Living Museum explores cold-blooded reptiles, including those native to Virginia and exotic reptiles. A must for people wondering whether they should have a reptile as a pet.
Hampton - Feb. 23-26 - The Mid Atlantic Quilt Festival explores an American art form. Fiber arts and wearable arts are displayed, too.
Shenandoah Valley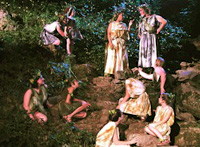 Outdoor Theater at Lime Kiln

Winchester - Feb. 11-12 - Visiting Artist Series: Basket Weaving at the Shenandoah Valley Discovery Museum features a different artist every month. Free with museum admission.
Lexington - Feb. 25 - Monte Carlo Evening features great food, silent and live auctions, gaming, raffle prizes, live entertainment and a cash bar.

Roanoke - Feb. 26 - The International Wine Tasting Tour invites you to sample wine and food of different countries. Ethnic-costumed servers, music, art show and sale are other activities.